I am large, I contain multitudes.
— Walt Whitman
But what is contemporary technology if not a mechanism for the containment of multitudes?
— Taylor Fang
A self that goes on changing is a self that goes on living.
— Virginia Woolf
Even if one is a single-case researcher, it shouldn't imply that one is a lonely researcher.
— Patrick Onghena
Stats-of-1 is a blog on a mission to improve personalized health through digital within-individual statistical designs or methods (WISDOM) that define the field of esametry (derived from "isa", the Tagalog Filipino word for "one").
Inspired by the intra-individual or within-individual approaches of n-of-1 trials, single-case experimental designs, and single-subject research, we are building a community of statistics-savvy pioneers who use modern tools of digital health (e.g., wearables, sensors) to create or adapt statistical techniques for studying a single individual's recurring trends. This unified field we call esametry sits at the center of collective digital WISDOM. Visit our About page to learn more.
---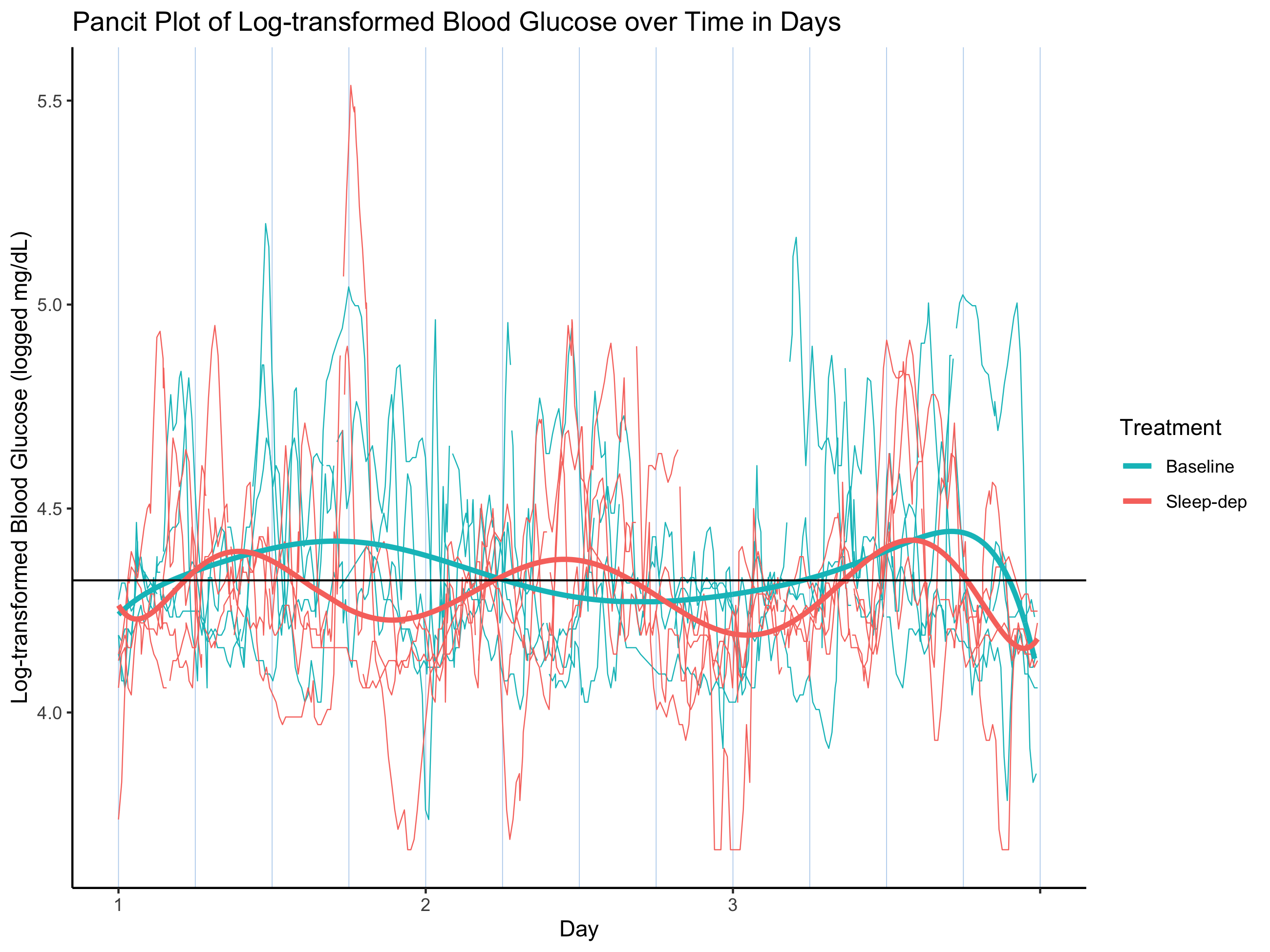 An example of an esametric plot called a pancit plot—a "longitudinal" graph of a single person's outcome trajectories per exposure period, drawn by overlaying each per-period trajectory over all periods of measurement (Daza, 2019; Daza, Wac, and Oppezzo, 2020). (Think of one long, meandering noodle, that is then chopped up and layered.) This plot of different outcome trajectories under different exposures is directly analogous to a spaghetti plot of different individuals under different exposures in a longitudinal study.
Check out many more esametric plots at Quantified Self.
---
Kumusta!
Do you work on statistical methods for personalized digital health or anaylzing recurring trends in a single individual?
Would you like to connect with your peers by publicizing your ideas through a blog post? (click here for examples)
If so, we'd love to hear from you. Please send us a short summary of your idea online or by email here. We'll then follow up with you, to see if we can help publicize your work as part of the Stats-of-1 research community.
And do consider following us at twitter.com/statsof1—or subscribing to Stats-of-1 here—to get regular updates.
Salamat!
Contact Form